Bright Star Kids' Iron On Labels
Looking for Iron On Labels that last? Look no further! Our Iron On Labels are washing machine and dryer safe. No peeling, curling, or fading for years to come. And to top it all off they're super quick and easy to apply, making them perfect for anyone labeling their kid's clothes for daycare or school.
Watch how easy it is to use our Iron On Labels!
Need more instruction? Not a problem, follow this easy Step-by-step guide:
Step-by-step instructions: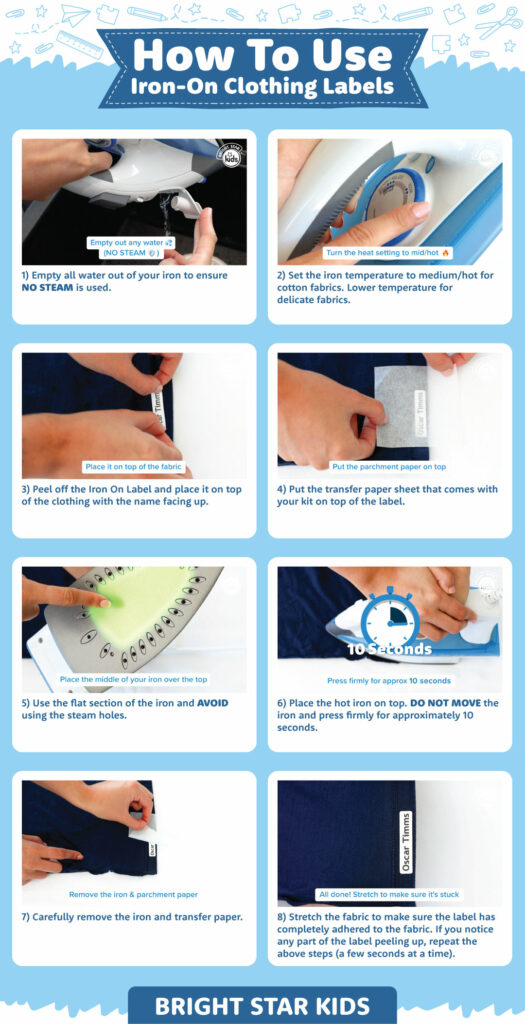 Some extra tips:
Use a larger sheet of parchment paper to cover the surface of the fabric so that the iron doesn't cause any damage to the clothing.
If you can't get the hang of the iron, some of our customers say they find it easier to use a hair straightener to apply their labels.
Applying the labels on a wooden chopping board offers a solid surface to allow you to press more firmly on the iron.
Avoid using the part of the iron that has steam holes. Instead use the flat part without holes to allow more heat to be applied.
Questions? Check out these FAQs:
The text is looking smudged or faded.
This may be due to the iron being too hot and melting the label OR because of the iron moving during application. Make sure to hold your iron 100% still, especially when you first put the iron over the label. If this doesn't work, try turning the heat of the iron down and/or holding the iron over the label for a shorter time giving only short bursts of heat.
Why has my label come off in the wash?
This may be due to the iron's heat not penetrating through to activate the adhesion of the label. Make sure the iron is hot enough, that the piece of fabric isn't too thick and that you've held the iron on for long enough. You can go over the same label numerous times as long as you use the transfer paper. But be careful as overheating the label may cause it to melt.

Another suggestion is to apply the labels on a wooden chopping board, as it offers a solid surface to allow you to press more firmly on the iron. You will need to apply the heat for less time if you are using this method, using the part of the iron that doesn't have any steam holes to allow more heat to be applied.
What are the sheets of paper I got with my order used for?
This is transfer (or parchment) paper and it is to use when you iron the labels onto your clothing. If you run out or lose the treated paper, simply use good-quality baking paper instead.
How will I know if my iron is at the correct temperature?
The temperature and timing may differ depending on the type of fabric and make of iron, e.g. cotton will need a higher temperature with longer pressure and nylons will need a lower temperature with less pressure. We highly recommend that you test your clothing labels in an inconspicuous area before using all of your clothing labels. You can go over the labels as many times as needed if the temperature is not high enough initially.
Are Iron On Labels washing machine and clothes dryer safe?
Yes, as long as you've applied them correctly, they're so durable that they'll probably outlast the clothing itself.
We recommend that you wait for at least 24 hours before putting the item into the washing machine or clothes dryer to allow the fabric to completely adhere to the clothing labels. They can be put through washing machines and tumble dryers without peeling off, even industrial-style machines that are used in boarding schools.
What fabrics can Iron On Labels be used on?
These Iron On Labels work best on fabrics that allow for irons, such as 100% cotton. We love to use them on school uniforms, hats, socks, underwear, towels, and even some swimwear (although this last one can be a little tricky to get right).
If your clothing doesn't suit ironing try our Wrap & Stick Clothing Labels, you can read more about them here:
Where can I find Iron On Labels?
Our Iron On Labels can be purchased in an Iron On Value Kit or by themselves in single-label packs. You can get small or large quantities to suit the number of clothes you need to label.