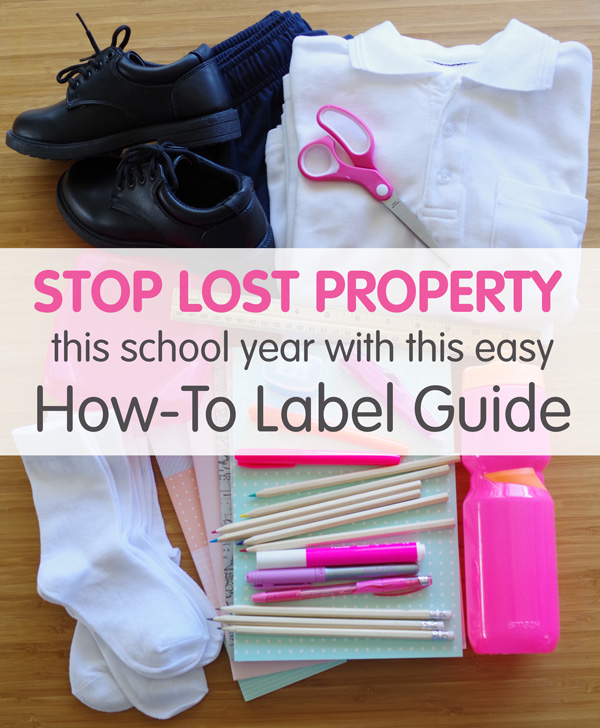 Stop Lost Property
Guide for How-To Label & avoid lost property with Bright Star Kids:
Don't want to ever have a lost property again?
As a Mom of 3 kids all at school, back to school time can be just as expensive and busy as Christmas as I try and get everything needed for back to school! The last thing I want is for that money to turn into lost property.
My shopping list for back to school each year includes new school shoes, uniform, socks, books, lunch boxes, bottles, stationery, and last but not least, a Labels Combo Pack.
Even though labels cost more than a Sharpie pen, from experience, I've found that investing in labels will end up saving you much more in the long run. This can save you from having another set of lost property.
Before I started labeling with Bright Star Kids Labels, I'm not sure how many school hats, jumpers, lunch boxes & stationery items my kids lost. The unlabeled property does not always end up in lost property as it can be claimed as someone else's property! On average I spend around $250 per child on all of their belongings. With hats and shoes being one of the more expensive items, they must be labeled clearly.
Labels Combo Pack:
Before back-to-school time, I like to get one of the Labels Combo Packs that has all the labels I need for my kids' belongings. The stick-on labels are super durable as they're 100% waterproof, fade-proof, scratch-resistant, and dishwasher safe & guess what else?… They include Bright Star Kids' popular Wrap & Stick clothing labels. No more ironing on labels. The best part though? My kids don't report of any lost property anymore.
My kids love picking their own labels combo pack and the live preview on the Bright Star Kids website makes it a really fun process. Just make sure to give yourself plenty of time for this as there are lots of designs to choose from, perfect for babies right up to the fussiest tween or teenager! On the other hand, if your child wants something plainer or doesn't want an icon, never fear because there is also a Plain Labels Combo Pack that will just have their name printed on a plainer style label. 
Stick-On Labels: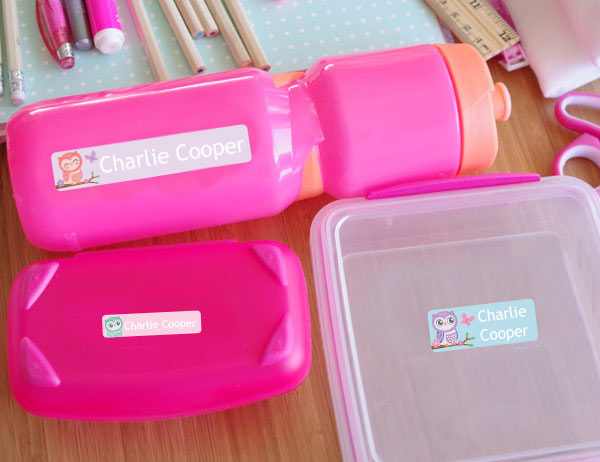 The Stick-On Labels can be stuck to most types of smooth plastic surfaces, like the ones in the image above. Some frosted finished plastics don't allow the labels to stick properly, but most containers have a smooth area. That's where the Tiny Pencil Stick-On Labels come in handy, as they can usually fit onto even the smallest section of your containers. 
The Subject Stick-On Labels that come in the School Labels Combo Pack come with a blank area that you can write on the subject and class name. I find a permanent marker works best as it looks nice and neat.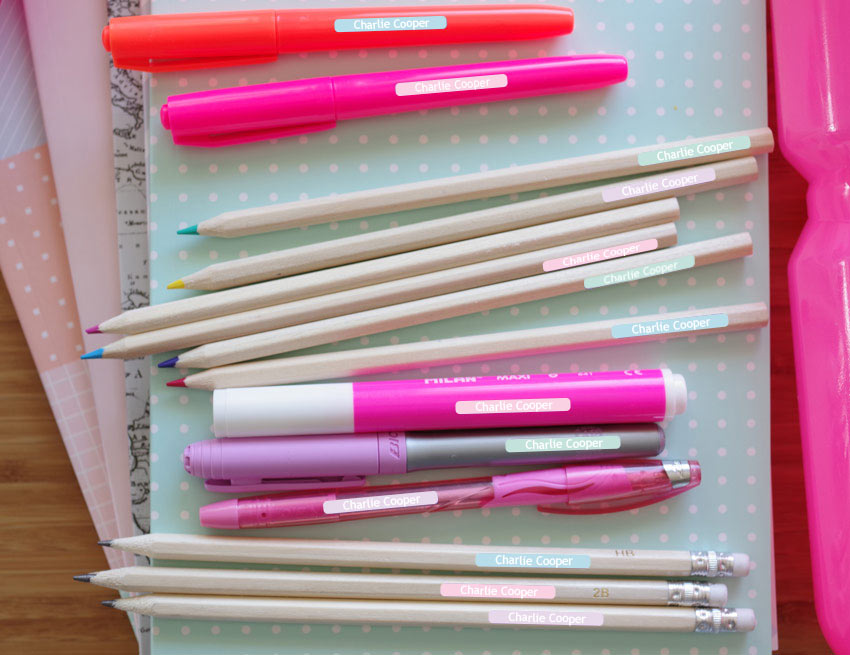 My kids love sharing their stationery with their classmates. With this in mind, I like to use the Tiny Pencil Stick-On Labels to label everything so all their bits & pieces end up back on their desk & in their pencil case! Replacing all these things during the year is a right pain and can end up being very costly.
Shoe Labels: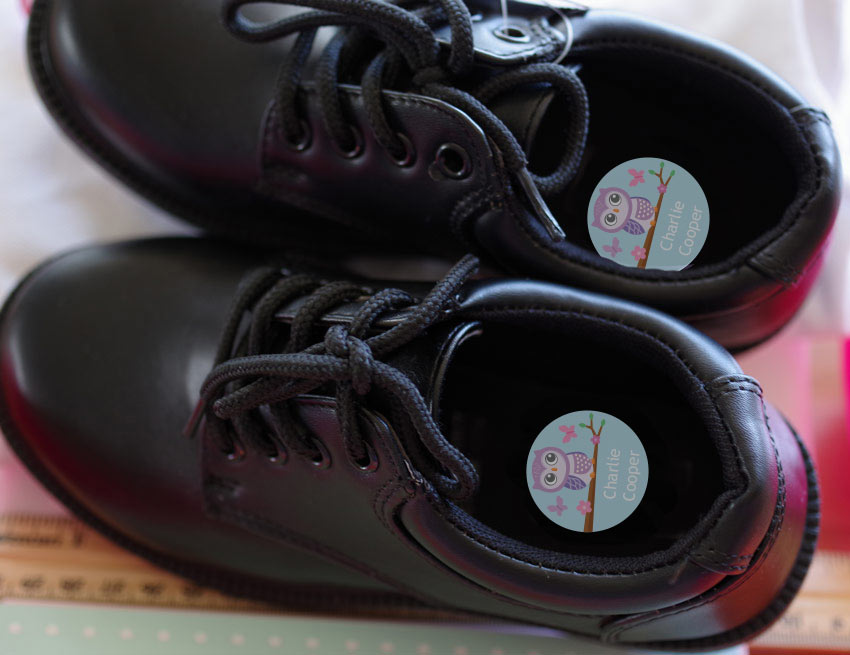 I use the Round Labels in my kids' school shoes. They're really easy to use. I simply stick a round label into the shoe and then stick the blank clear protective round label over the top. This gives the name label extra protection against the wear and tear of my kids' feet. These labels have outlasted most of my kids' shoes, so they're really durable!
Clothing Labels:
To label all of my kids' uniforms and other smaller clothing items like socks and hats, the Clothing Labels are perfect. My favorites are the Wrap & Stick Clothing labels because I don't have to iron them on & they still last in the washer & dryer. For socks I use the iron on labels & this helps me to keep track of who has & hasn't brought their socks to the laundry basket.
I used to use a permanent marker to label my kids' clothing, but I found this looked really ugly. They would also often fade and smudge after a lot of washes, making it hard to identify what was written on them in the first place. After finding these Clothing Labels, I'd never go back to writing on my kids' clothing ever again.
The most amazing part about these labels is that I've found they often outlast my kid's clothing.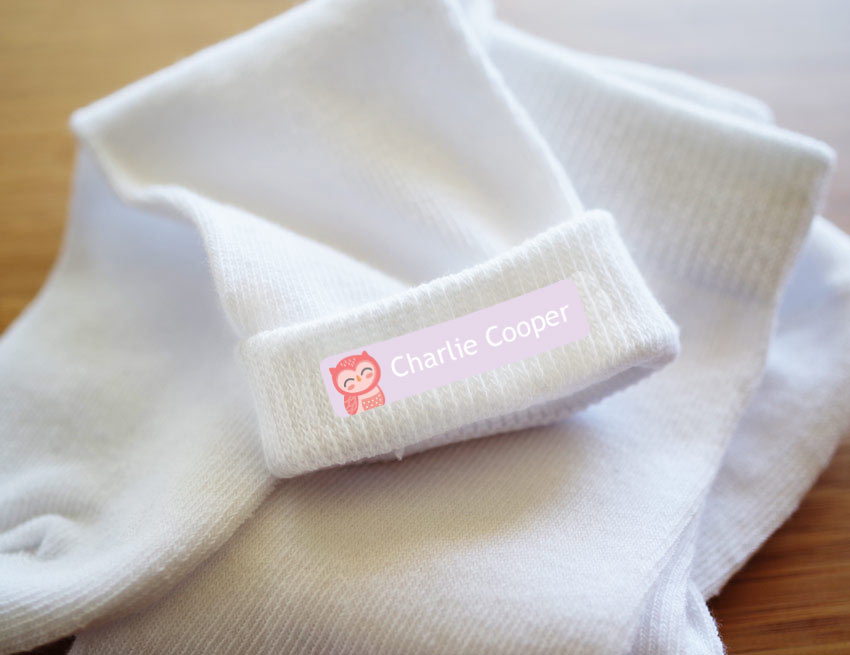 For Back To School, we recommend the School Labels Combo Pack because it includes a label for every little thing:
Stick-On Name Labels in various sizes (for lunch containers, drink bottles, & stationery)
Clothing Labels (for hats, socks & uniform items)
Round Shoe Labels with clear protection covers (for school or sport shoes)
Subject Labels (for various subjects)
Tiny Pencil Labels (for all of those tiny items like pencils & charger cords)
Another great thing about name labels is that I'm finding as my kids get older, they go on more excursions & even overnight camps. I now label everything that goes away with them, from their socks & underwear to the toiletries they need to take with them. I usually find that even after ordering a label kit, there will always be a few labels leftover.  As I need them throughout the year, I can just pull them out & label the necessary items. They're so convenient!
I hope this helps you a bit with your lost property problems and your back-to-school organization. We'd love to hear your tips and tricks on getting your kids ready for back to school too. 
Looking For More Labels?
Not only do we have labels for your kids' school belongings, but we also have Pantry Labels, Kitchen Labels, and Spice Labels which have a great range of designs you can choose from. Check all of our home organization labels here.
Don't forget to like our Facebook and Instagram pages to get updates on all of our products and upcoming special offers.