Crafts For Kids
Kids running circles around you? Can't sit still? You're going to love this super huge list of crafts for kids at home. This list of crafts for kids has over 100 different links to some of the best & easiest crafts for kids on the world wide web.
These are 10 of our absolute favorites: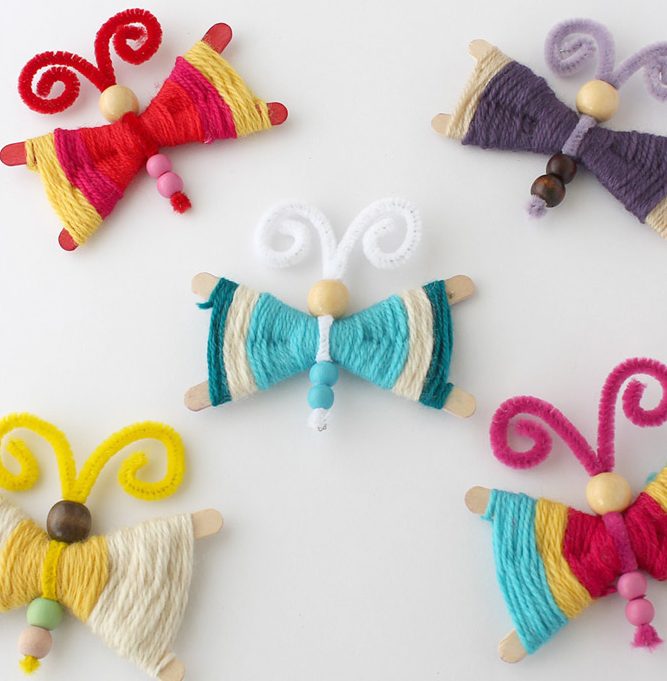 1. Mother's Day Activity Sheet – Show Mom or Grandma how much she's loved by completing this free printable.
2. 10 Easy Cardboard Crafts – Art that you can recycle.
3. 18 Shoebox Craft Ideas – More recyclable art.
4. 11 Weaving Projects For Kids – For improving their fine-motor skills.
5. 17 Paper Plate Craft Ideas – Easy crafts with the stuff you have at home.
6. 17 School Holiday Boredom Busters – Never hear the words "I'm bored" ever again.
7. 22 Egg-cellent Egg Carton Crafts – There are plenty of skills to learn here. Cut, Paint, colour, stick!
8. 15 Kid-Friendly Origami Crafts – Improve their fine-motor skills & comprehension here.
9. 14 Pokemon Craft & Fun Activities – Pokemon Masters unite! Craft ideas for kids who love all things Poke.
10. Butcher Paper Body Tracing – Life-size models of themselves. This is fun!
Ready for the big list? Scroll down for our…
Crafts For Kids Mega List 
Save this list to your favorites and go back to it every holidays or craft for kids weekend.
Crafts For Kids – Toddler +
1. Sensory shaker bottle – Super mega easy & they'll use it for hours.
2. Stained glass window – Let there be light.
3. Toddler Dot to Dot – So many free dot-to-dot printables.
4. Toddler Collage – The perfect activity for teaching toddlers to express themselves with their art.
5. Do some sticker art projects – Did someone say stickers? Yes please!
6. Free Play Art – Art activities for the sensory seeker.
7. Color Mixing in a Bag – Fine motor skills, sensory engagement & learning about colors.
8. DIY shapes book – Keep them engaged for hours..
9. Make Salt Dough – A great gift for the grandparents.
10. Finger Paint – So much fun! (Even if it is just a little messy)
11. Handprint Art – Alphabet Art has never been so fun.
12. Make a Sensory Bag – You've got all of the ingredients in your pantry.
13. Scribble in the Bathtub – Let them play until they turn into little prunes.
14. Make a batch of play doh – It's mega easy.
15. Do a chalk photo shoot – This is a really fun way to get your kids in front of the camera.
16. Celery Stamp – This is great for developing their hand-eye coordination.
17. Tandem drawing – You'll be joining in on the fun with this one.
18. Sticky Paper Collage – Don't let the word 'sticky' put you off! It's not as messy as it seems.
19. Paint Leaves – It's a great way to get them out for a walk before sitting down for some crafts.
Crafts For Kids – Kindy + 
20. Shaving Cream Paint – This is some serious outdoor fun.
21. Bark Painting – Another opportunity for some exercise before getting super creative.
22. Leaf Threading – Fantastic for their fine motor skills.
23. Pasta Jewellery – Wear it with pride.
24. 3D Paper Rainbows – 3D art in all the colors of the rainbow.
25. Family Portrait Painting – A keepsake worthy of gallery status.
26. Paper Chains – Christmas, Halloween, Birthdays… It's a skill they'll take with them for a lifetime!
27. Magic Milk Experiment – A little bit of Science & a little bit of Art.
28. Pressing Flowers – It's an age-old activity & it's still super beautiful.
29. Stick Gnome Painting – This is mega fun.
30. Michelangelo drawing under the table – Inspired by a beautiful mind.
31. Frozen Dinosaur Eggs – Paleontology anyone?
32. Paper Cut-out Family – A gift for every family.
33. Paper Plate Whale – Can you make a whole pod?
34. Can you draw or paint with your feet? – now this! This sounds like so so much fun!
35. Hand Tracing – Use your imagination to make all of the animals under the sun.
36. Tape Resist Paintings – If their chance to create you some abstract art for your walls.
37. Window Painting – Do this right before you're due to clean your windows.
38. Button Stampers – A cute way to make greeting cards & wrapping paper.
39. Plant Markers for Gardens – For fans of the famous washi tape.
40. Autumn Wreath – All of those warm colors remind us that the temperature is set to drop.
41. DIY Veggie stamps – D play with food… just not when you're meant to be eating it.
42. Glitter Glue Snowflakes – Perfect for kids who love the movie Frozen!
43. Salad Spinner Art – Add glitter paint for something extra special.
44. Marble Painting – Fun and easy, the kids will want to do this all of the time.
45. Container Painting – Create a masterpiece & burn some energy at the same time.
46. String Art – Geometry & art all in one.
47. DIY Heart Stamp – A Valentine's Day Craft for kids.
48. Recyclable Art – Make thing with the stuff you ave laying around the house.
49. Magnet Painting – Art and science. Perfect for clever creatives.
50. Fake Snow – More for the Frozen fans & perfect fo those wintry days.
51. Paper Airplanes – Art that ends in an experiment.
52. Suncatchers – Fill your room with colorful light.
53. Sponge Stamps – A less-mess painting option.
54. Cereal Box Aquarium – Recreating their favorite seascapes.
55. Recycled Crayons – So that's waht you do with broken crayons!
56. Button Art – Buttons everywhere, and they are just so so cute.
57. Tissue Box Monsters – These little monsters can be recycled later.
58. Toilet Paper Roll Crafts – A mom-fave.
59. Chalk Ice – Time to get creative outside.
60. Scrape Painting – Changing the way we think about painting.
61. Dot Markers Art – Watch out Grandma! We're using your markers.
62. 3D Art – Sculpture for kids.
63. Make Stepping Stones – Then out to the pond or lake to test them.
64. Cardboard Box Town – Town planning where you recycle at the end.
65. Marble Run – A cute introduction to engineering.
66. Popsicle Stick Catapult – What goes up must come down. This is so so much fun.
67. Air Dry Clay Projects – Clay that just cures on its own? What is this magic?
68. Make Greeting Cards – A great activity for clever planners. Store them for later.
69. Paint Pet Rocks – These are just so so cute.
70. Make a Bird Feeder – Encourage the birds to come and have a treat while the kids watch.
71. Paper Bag Puppets – Quick & easy puppets. What will they make?
72. Watercolour Painting – Paint that washes off… You had me at wash.
73. Mason Jar Crafts – Perfect as DIY gifts.
74. Aluminium Foil Crafts – Art from the pantry.
75. Paper Weaving – It's perfect for teaching them to work gently & to be delicate.
76. Make Wind Chimes – You won't regret this on a windy day at allllll.
Crafts For Kids – Primary +
77. Origami Animals – Adorable & they'll teach your kids fractions & improve their fine-motor skills!
78. God's Eye Wool Weaving – An ancient craft, but it's still so so fun!
79. DIY Bubble Blower – Bubbles. Enough said.
80. Decorate Paper Crowns – For every King & Queen.
81. Paper Snowflakes – Each one a little different to the last.
82. Pom Poms – You know you want these. Use them on your Christmas tree too.
83. Toy Clothing – No-sew Barbie clothes? Magic!
84. Rainbow Paper– 3 ingredients you'll have at home. So so easy.
85. Infinite Paper Flipper – It doesn't flippin' stop.
86. Melting Crayon Craft– They're going to love this.
87. Clone Trooper Paper Dolls – Tough & cute.
88. Cityscape Sponge Art– One sponge creates a whole city.
89. Rainbow Prism – So easy & perfect for the kids who love all things color.
90. Mini Beaded Bookmarks – DIY Gifts anyone?
91. Single Color Art – Only have one paint at home? Too easy!
92. Shaving Cream Marbled Paper – They'll be amazed at how this works!
93. Seashell Crafts – Any excuse to get to the beach & explore.
94. Homemade Bookmarks – Ummm… adorable!
95. Homemade Wrapping Paper – Your gifts deserve the best.
96. Fabric Pen T-shirts – Test out their fashion design skills.
97. Spirolaterals Math Art – It's perfect for making maths fun.
98. Scratch Art – For the sensory seekers.
99. Paper Boats – A lesson in buoyancy. Who's will float the longest?
100. About Me Scrapbook – Make a tradition of this.
101. Thankful Jar – An easy way to remind them how lucky we all are.
102. Cardboard Castle – Got a prince or princess? They'll love this.
103. Puffy Sidewalk Paint – Art outside. Yes please!
104. Kids Embroidery – Improve their hand-eye coordination!
105. Mosaic Art – Some eye-catching art for your little artist.
106. Decorate Shoes – Got a little designer on your hands? They'll love this.
107. Knitting for Kids – Lots of knitting activities for every level of skill.
108. Make Temporary Tattoos – You can make temporary tattoos at home? That's awesome!
109. Superhero Mask Craft – Not all super heroes wear masks… But your ones will.
110. Tooth Fairy Case – Now this is cute. What a beautiful keepsake!
111. Jar Lanterns – So beautiful for night time.
112. Natural Dye Experiment – No chemicals. What colors can you make?
113. Learn to Draw – Drawing is easy with the right help. You'll love this.
114. Draw a Self Portrait – A great keepsake for when they're older.
115. Inspirational Quote Poster – They've got loads of inspirational stuff to say. Make some art with it.
116. Sharpie Tie Dye – This is super easy & really quick to do.
117. Bottle Rocket – Whose rocket will fly the highest?
118. Make Friendship Bracelets – For every BFF.
119. DIY Bath Bombs – They'll think these are pretty great.
120. Design your own Headbands – Can you ever be too fashionable?
We hope you love love love using this crafts for kids list on rainy days, weekends & holidays as your kids grow. And don't forget… if you love this list, please share it on Instagram, Facebook, your blog or your channel by crediting @brightstarkidsusa.
Want some personalized kids essentials that last?
Our waterproof name labels, personalized gifts, and school & daycare supplies are made to order for you in the USA and shipped super fast. Check them out here, and save.