10 Awesome Ikea Bunk Bed Hacks 
Rock your kids' world with these clever and fun, space-saving Ikea Bunk Bed hacks. Whether you're doing an upgrade for your little one or making space for another sibling to share a room, these Ikea Kura and Mydal bunk bed hacks are so much fun to build! Your kids will absolutely go crazy over their own space.
1. Tickled in Pink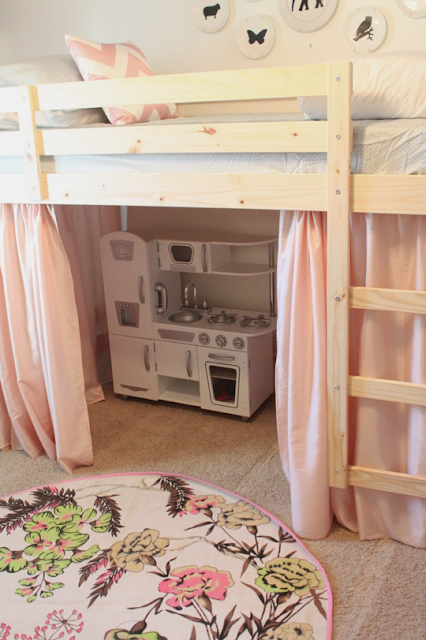 Utilize the lower bunk as a stylish play area. Here's a cute and clever Ikea bunk bed hack to create a space you can easily convert later on into a bed space for another sibling.  
2. Paint It Blue

This Ikea Mydal bunk bed hack got a fresh duck egg blue paint job to coordinate with the rest of the bedroom furniture, and linens too! It's a nice pop of color that's soothing and easy on the eyes yet still fun and inviting!
3. Toddler Bunk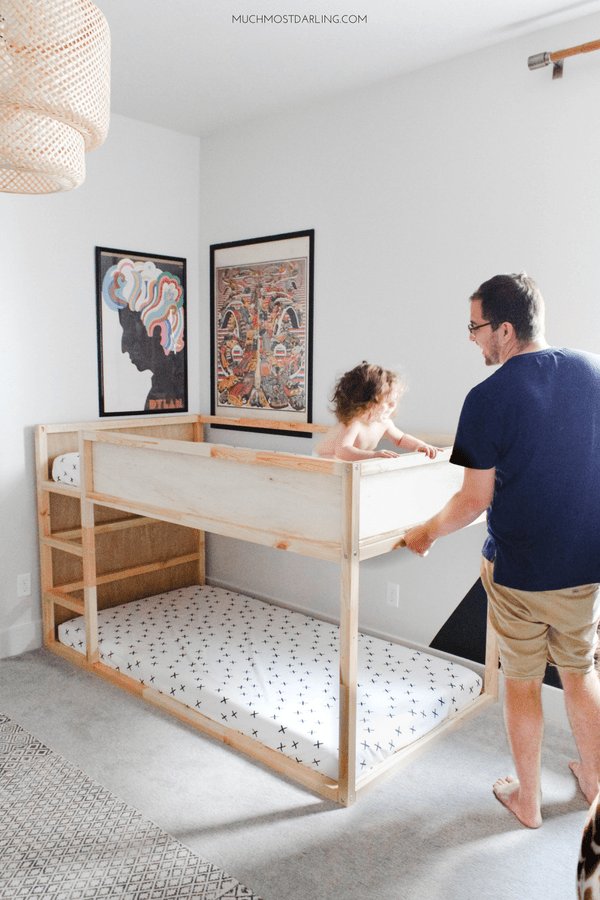 This little DIY Ikea Hack makes the Ikea Kura bunk bed toddler-proof. All you need is a sheet of plywood to cut and attach to the sides of the bunk bed. Keep it neutral or paint it in a bright and fun color.
4. Sleep, Read, Play, Repeat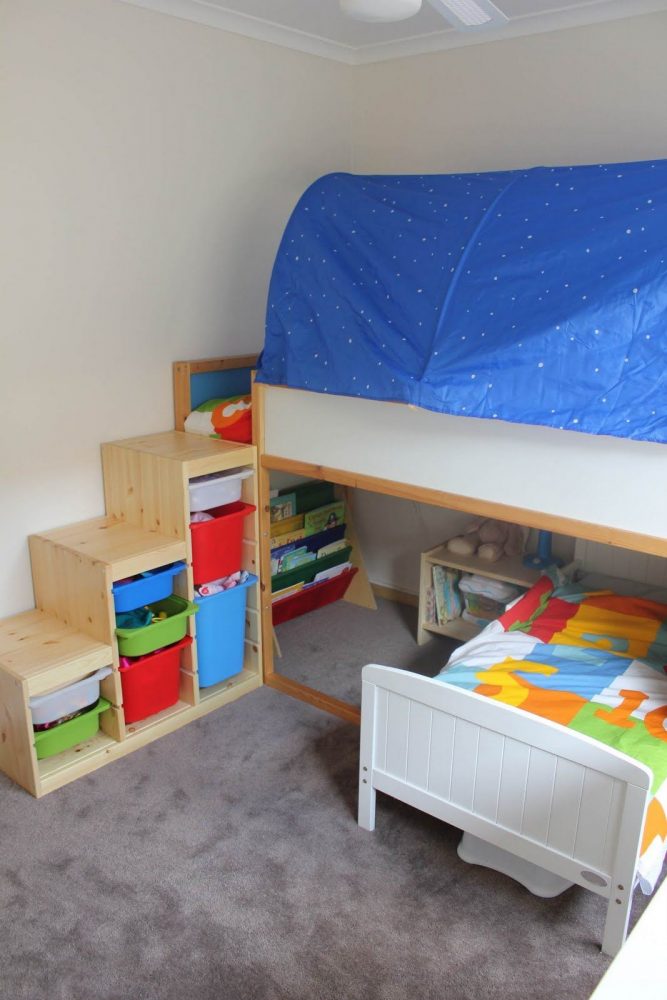 Bunk beds with stairs make great space for storage! Having a bed, storage, and play space is the ultimate dream.
5. Cozy House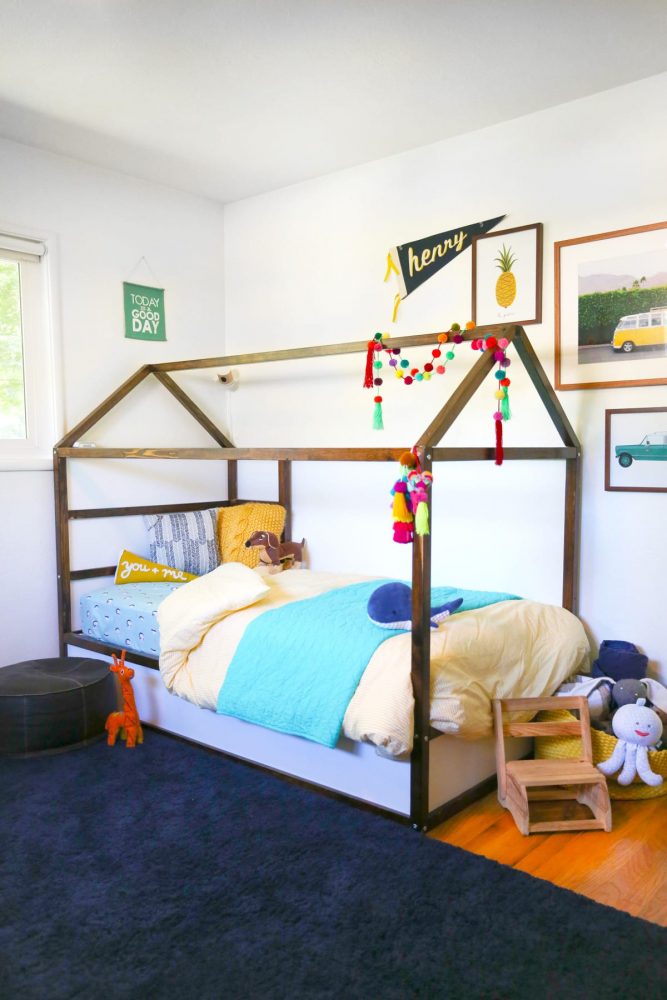 Trying to convince your little one to have their own bed or room? The best way to do that is to tell them they'll have their own house to themselves in a form of a  wooden bunk bed. Add drapes or hang toys to make it more fun!
6. Family Camp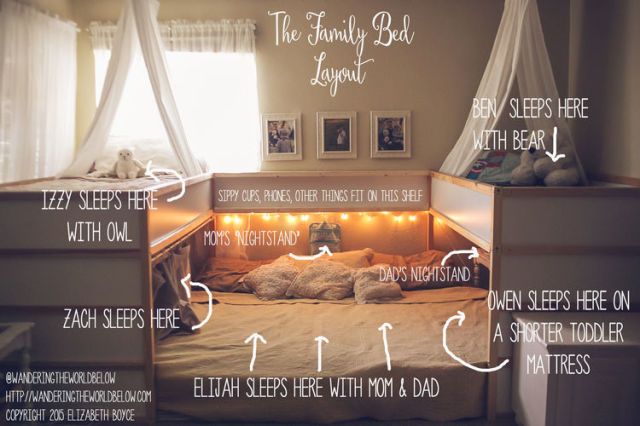 Combine 2 Ikea Kura bunk beds with the king-size bed to make these super awesome DIY bunk beds at home. This hack will make sleeping fun and comfy for a family of 7!
7. Ballin' Bunk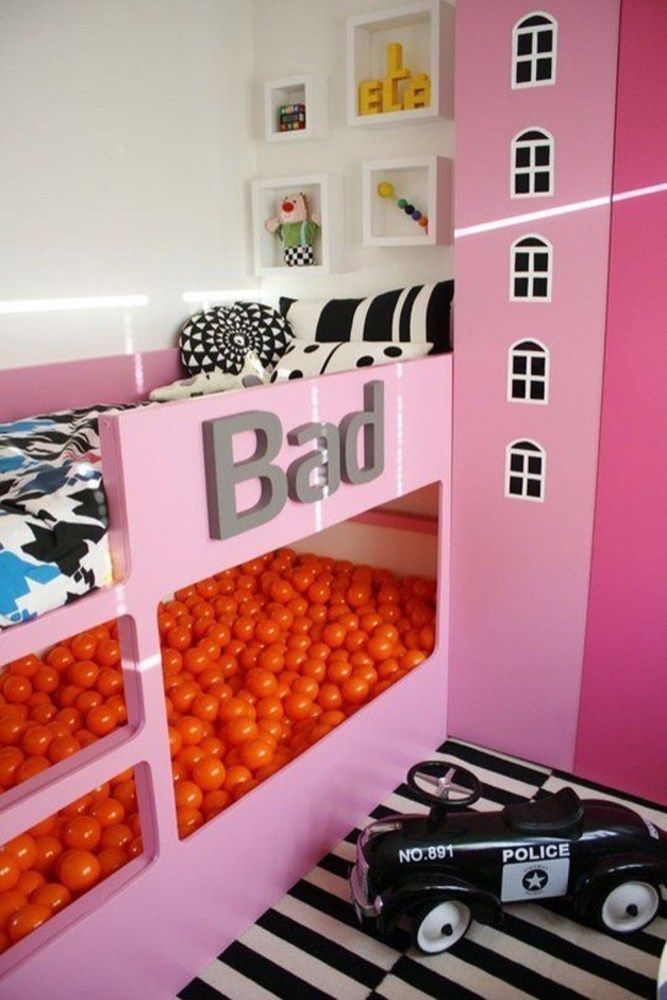 Image Credits: Rusta Upp
Ikea bunk beds turned into a fun playground with a ball pit at the bottom bunk. They'll definitely have a ball with this one!
8. Sleep and Slide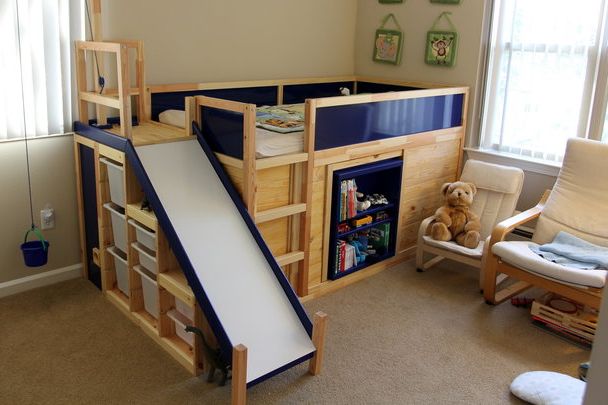 Recreate this bunk bed with slide using the Ikea Kura bunk bed and other Ikea storage boxes and shelves. You'll be the coolest mom and dad ever!!!
9. Hide Away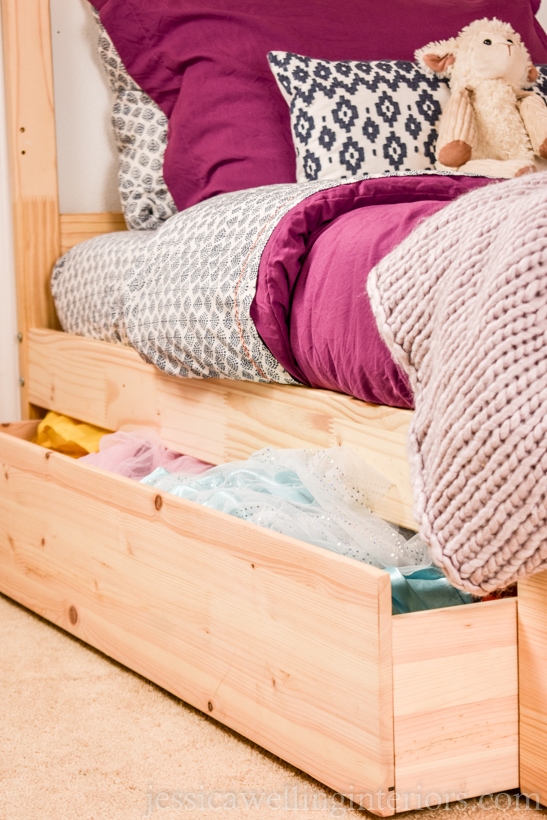 Looking for bunk beds with storage? If you have the Ikea Mydal bunk bed, you can easily tuck away everything in one go with a DIY under-bed storage.
10. Sweet Dreams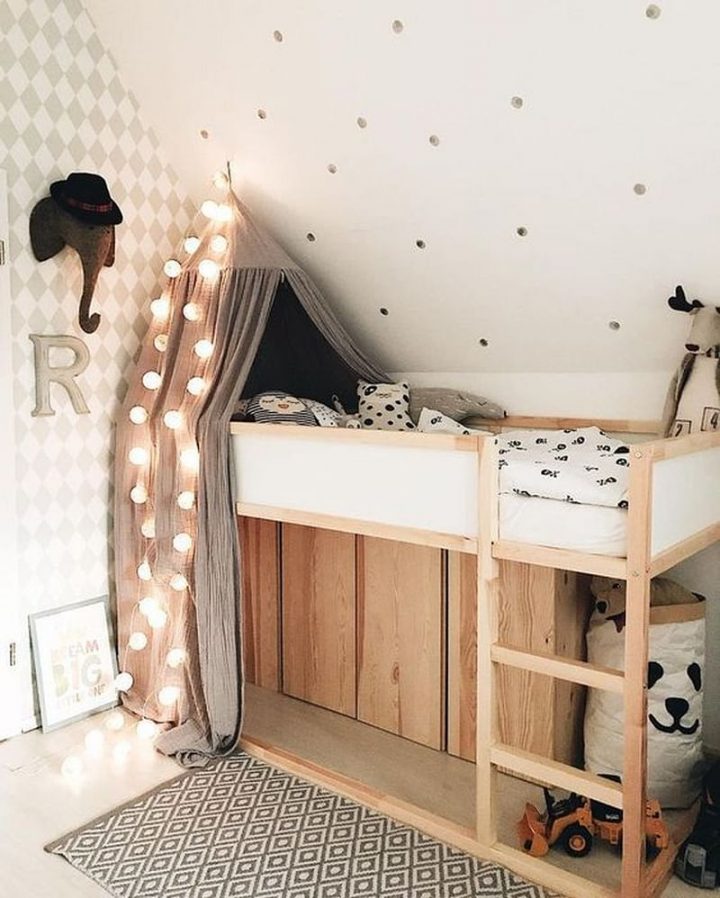 This one's a fun way to create a nice sleeping space that doubles as a play area. A super simple hack is to turn this Ikea Kura into a bunk bed tent by simply hanging a canopy over the top bunk. 
BONUS:
Here are some easy hacks for kids' bunk beds for mini room makeovers. Little additions such as wall letters and door signs make their room look more fun.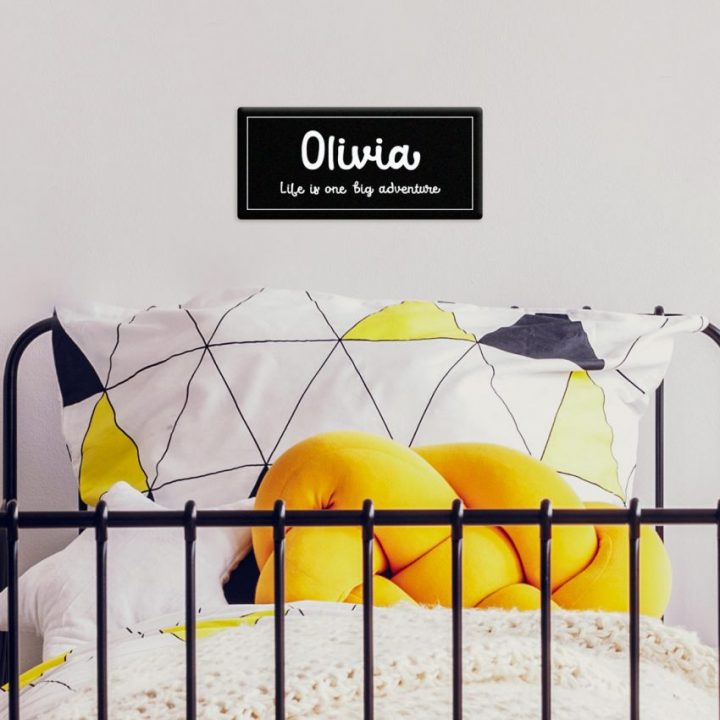 Image Credits: Instagram @natashaschmarr
Wall Letters from Bright Star Labels used for kids mini-workshop stall.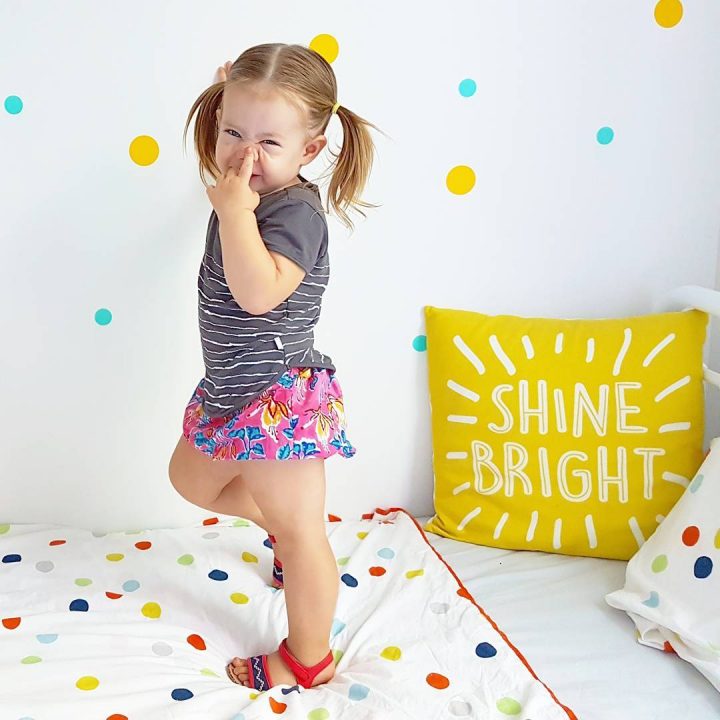 Image Credits: Bright Star Labels Polka Dot wall stickers 
You can also decorate their walls with fun wall stickers and have personalized cushion covers to brighten up their space! 
Want More Organizing Hacks and Ideas?
Check out our blog on How To Organise Kids Bedroom, and Kids Toy Storage Ideas. And if you want to add more fun in their room, these Kids Camping Tent Ideas are the perfect inspo for their bunk beds! 
Looking for Labels To Organize Your Kids Room?
We've got chalkboard labels for their storage bins and baskets to match your kids' room aesthetic! You can also add a cute growth chart for their room decor in their favorite design. The best part? It's made for you in the USA and shipped super fast! You're going to love them!