Christmas Food Ideas- Easy Party Food Inspiration
It's nearly Christmas time which means lots of end-of-year Christmas parties at playgroups, preschool, and school. Will you need to bring a plate of food to share? Or maybe you just love surprising your kids with a special breakfast or lunch box item. Surprise the kids with these fun and fabulous Christmas food ideas!
1. Strawberry Santas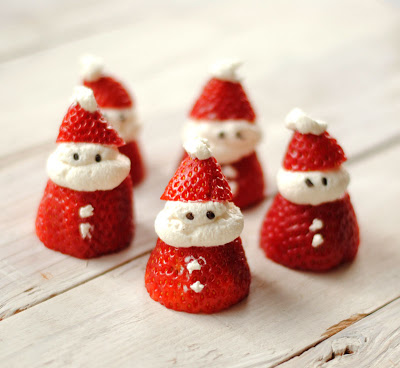 Who wouldn't love giving their kids healthy snacks for school? I'm sure you do, and your kids will love having these Strawberry Santas as their Christmas Party food, for sure. Their classmates and teachers might even find these Christmas Finger Foods too cute to eat!
2. Banana Santas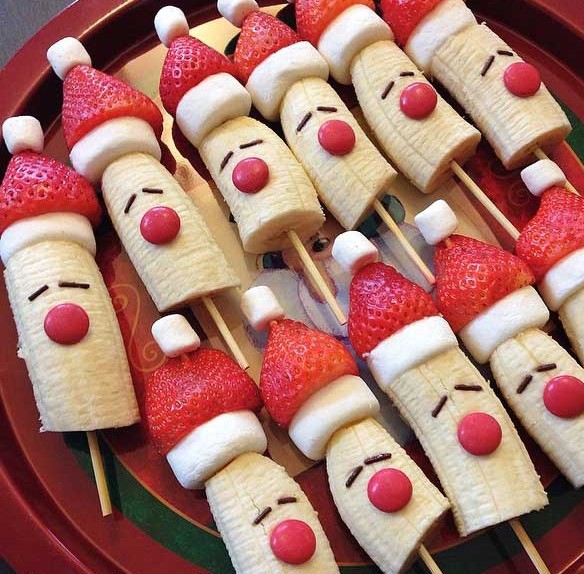 Ever seen those unique Christmas food ideas like this Santa Claus on a stick? Well, these Santa Banana Fruit Skewers are not only cute Christmas Food for your kids to share in their school Christmas Parties, but they are also one of the healthy Christmas Snacks that you can give them this holiday season.
3. Santa Toast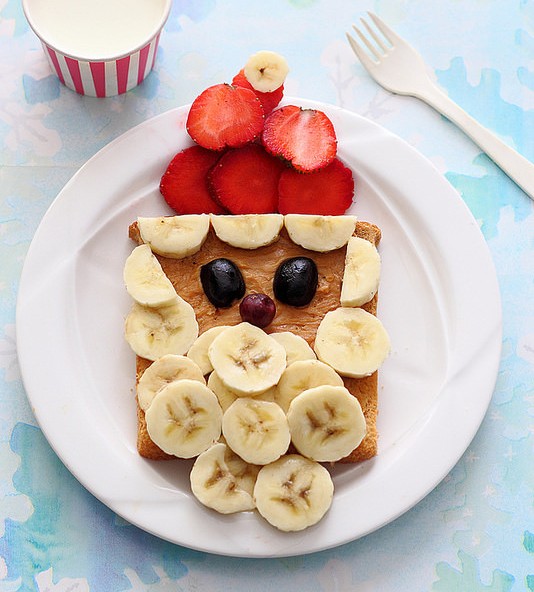 Ho-ho-ho! How about having breakfast with Santa on toast? Bring out the peanut butter, whole wheat bread, strawberry, bananas, red berries, and grapes to come up with this holiday breakfast that will surely give your little one loads of nutrition!
4. Reindeer Cupcake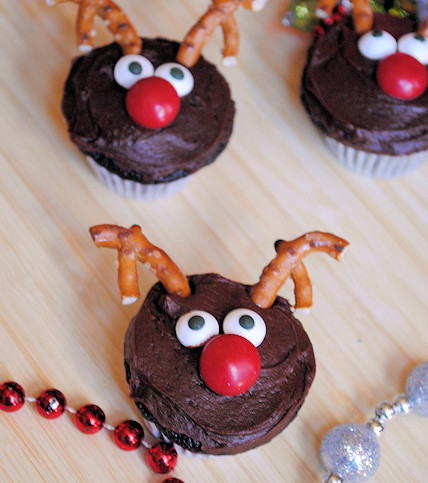 How about Rudolph the red-nosed reindeer not on a sleigh, but a cupcake this year? These reindeer cupcakes with the pretzel antlers will definitely steal the spotlight on the food table. Let your kids share these holiday desserts at their Christmas Parties and satisfy the sweet tooths in the room!
5. Reindeer Biscuit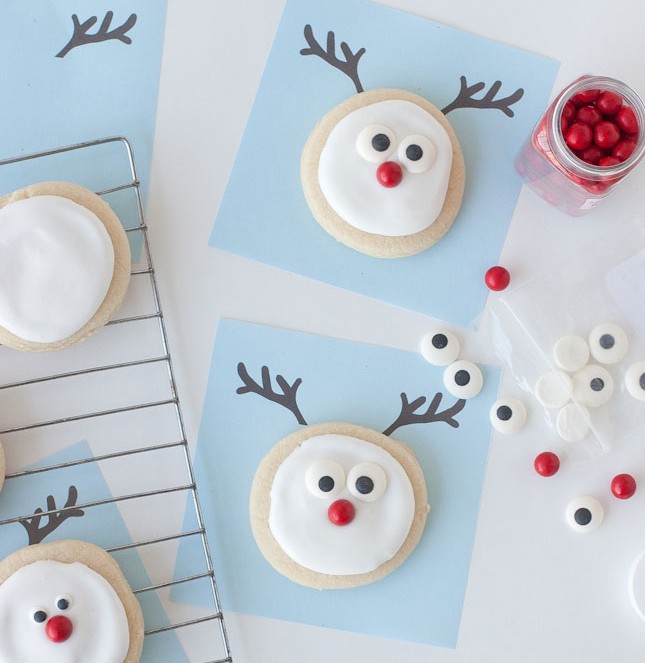 Do some Christmas arts and crafts with your kids before they go to school. One of those easy artsy Christmas Party food ideas that you can do is make these reindeer-decorated biscuits. Your little ones will have fun putting on the icing and other details, and they can share and eat these school snacks with their teachers and classmates after.
6. Reindeer Porridge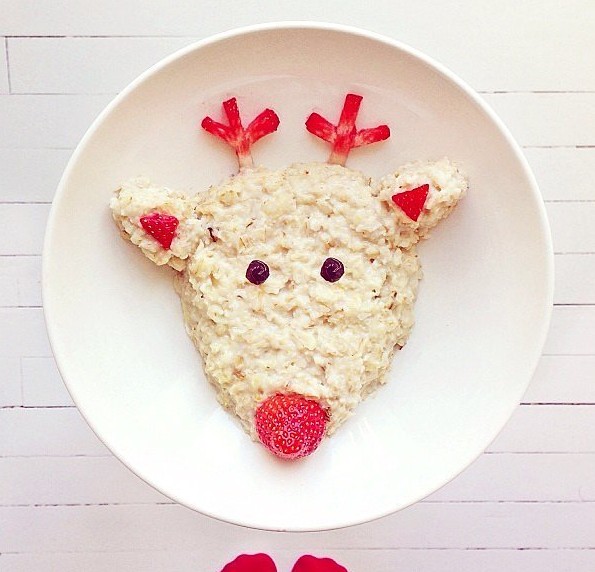 This holiday season, let Rudolph greet your little one in the morning at breakfast time. This reindeer porridge recipe is a perfect and healthy option for a Christmas breakfast – plus, those strawberry toppings make this simple porridge extra cute!
7. Reindeer Bottle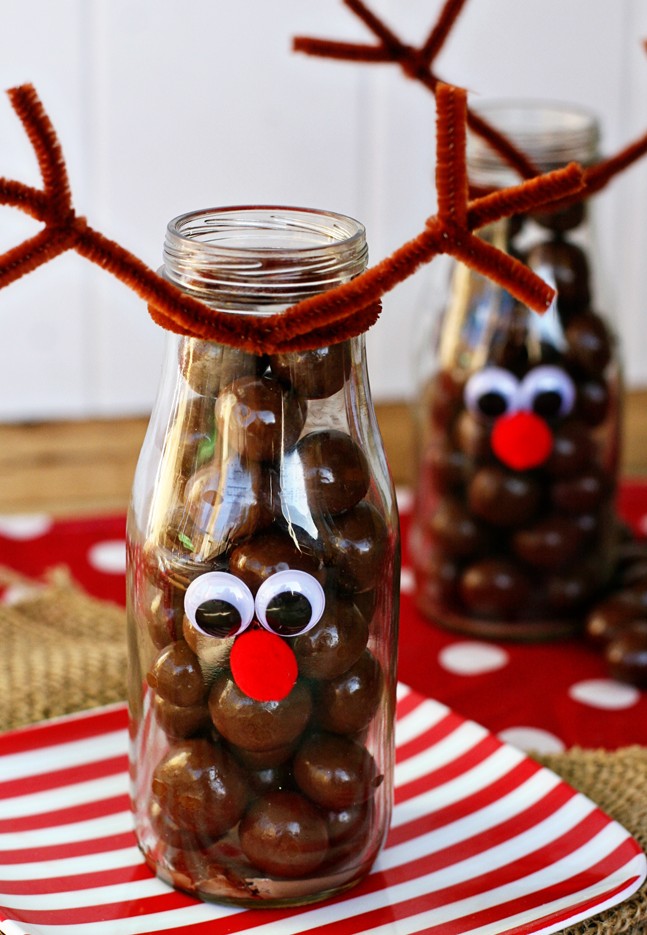 Go for easy-to-make holiday crafts for kids and try making these reindeer bottles. Just recycle your frappuccino bottles or grab some glass bottles at your local discount store and fill them in with chocolate balls. These holiday snacks will definitely be convenient for them to bring to their school Christmas Party. 
8. Marshmallow Candy Cane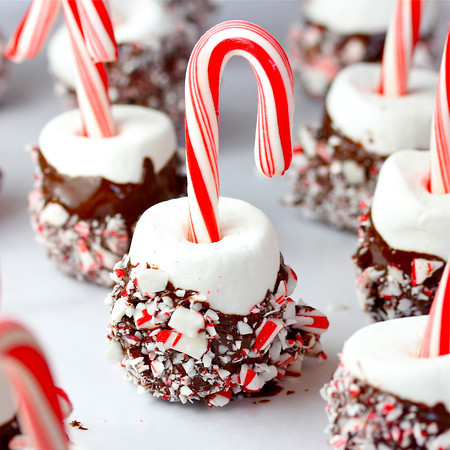 A candy cane is a staple holiday candy treat, so why not come up with something a little sweeter using these canes? Try making Candy Cane Marshmallows. These can serve as food to share at your Christmas Party or as Christmas presents.
9. Candy Cane Pops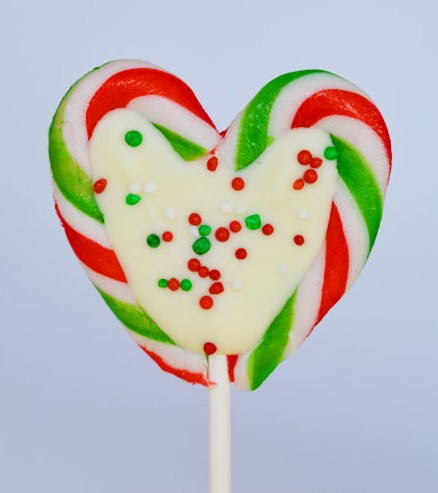 White chocolate plus candy cane? Like the usual Christmas food ideas, this is perfect for your little ones with a sweet tooth, isn't it? Combine the two elements and have fun creating candy cane lollipops with your kids. They can enjoy these holiday treats with their friends during their Christmas Party, too!
10. String Cheese Snowman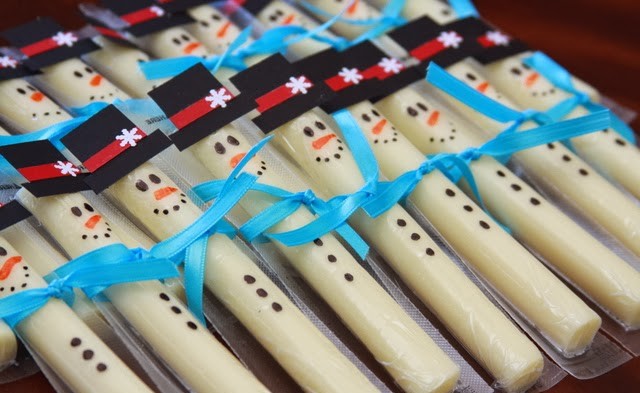 Do you wanna build a snowman using string cheese? Frosty the snowman is easy to make for your kids' lunch boxes or as gifts for their classmates! These String Cheese Snowman holiday goodies are irresistibly cute and easy to make, so prepare them now before your kids head to school!
11. Gingerbread House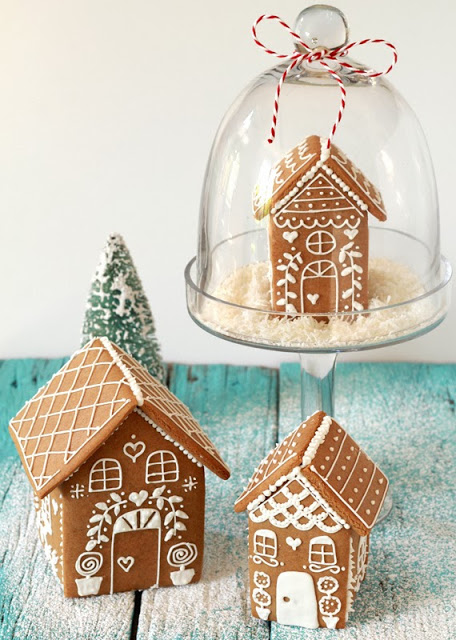 Holidays are not complete without gingerbread and the kids are always excited to draw and decorate on a gingerbread house, plus you may include a gingerbread man, too! This is one of those traditional, Christmas food ideas that will greatly complement your Christmas decorations at home. They're super fun to make too.
12. Gingerbread Men Bunting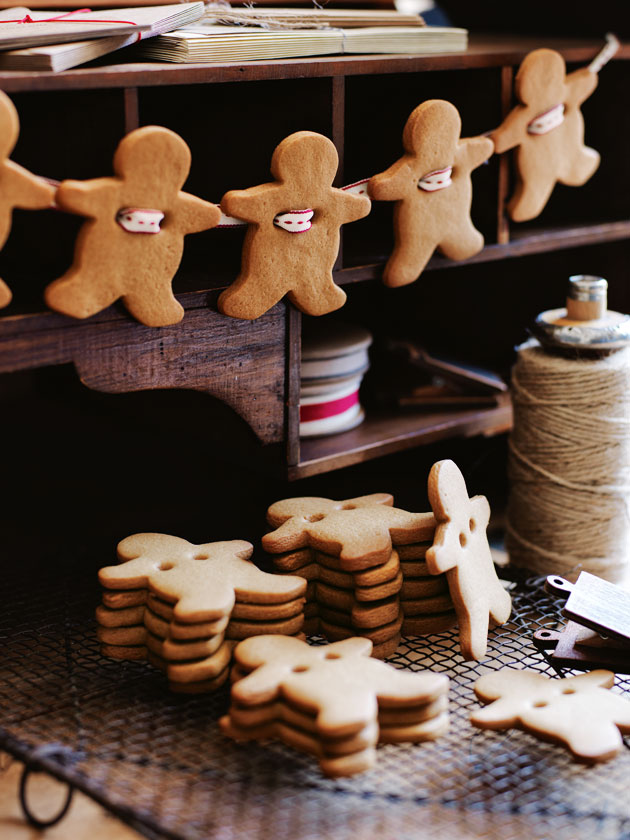 This Christmas food idea is the cutest bit of Christmas Decor & it will fill your room with that Gingerbread aroma. Try making gingerbread men bunting like these and hang them in any part of the house (just try not to eat them). This bunting is perfect for those people who are looking for a little extra something to add to their Christmas display.
13. Christmas Pudding Cake Pops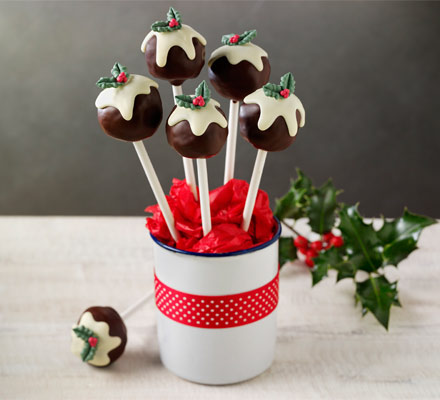 Make Christmas pudding pops with your kids. These yummy Christmas Pudding Cake Pops are one of the holiday treats you and your little ones can enjoy doing together. They can even bring these Christmas Party treats to school and give one to each of their classmates and teachers.
14. Meringue Christmas Trees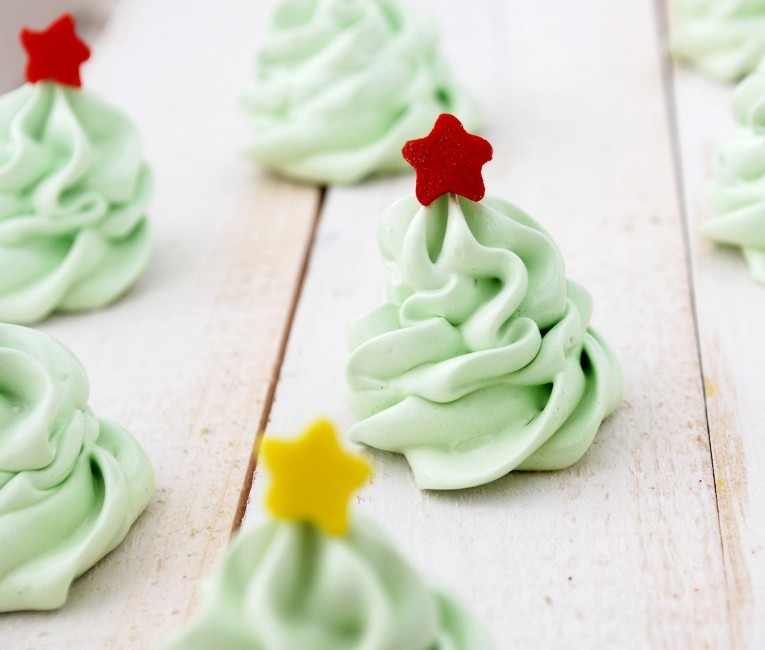 These Meringue Christmas Trees are easy Christmas desserts that your children can bring to their Christmas Party. Just shove your meringue mixture into a piping bag, pipe a cone shape with a large, open star tip, then top it off with a star sprinkle and tada! They're ready to pass around the party.
15. Ice Cream Cone Christmas Trees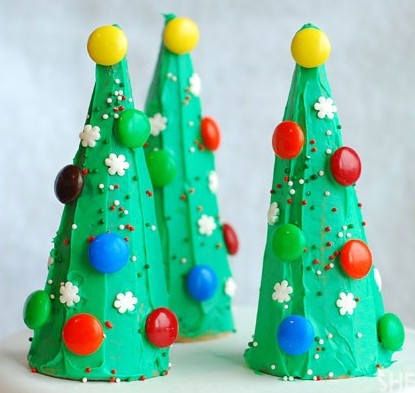 Just the thought of ice cream cones, and candy can make your little ones go crazy. So for this holiday season, get those ice cream cones and round chocolate candies out and create one of the cutest Christmas food ideas with your kids. This Ice Cream Cone Christmas Tree will be good to display at your Christmas Party, but would be a great, fun Christmas Party snack to share, too!
16. Strawberry Christmas Trees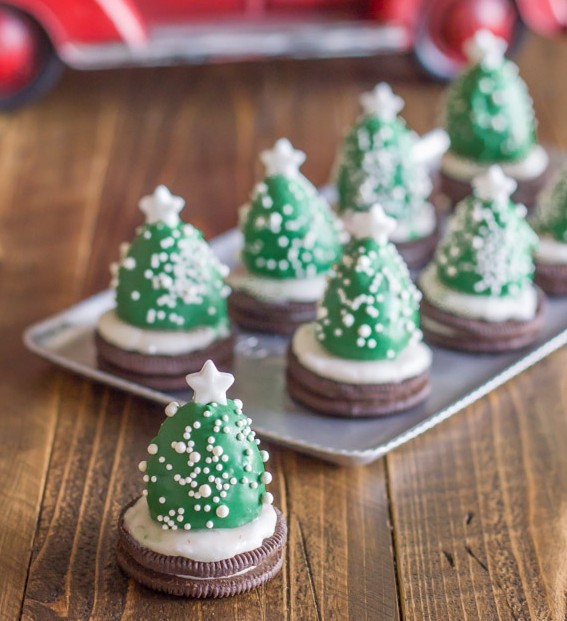 Chocolate-covered strawberries on top of Oreo cookies? Absolutely! These Strawberry Christmas Trees are super cute and they're handy for them to bring to their class Christmas Party. Would this make it on top of your favorite Oreo snacks list?
17. Christmas Tree Cupcakes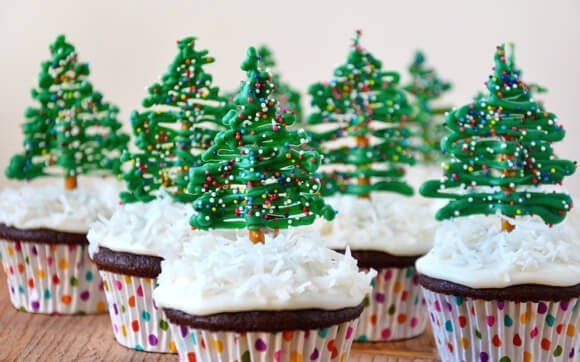 How festive can holiday cupcakes be? This festive! Aren't they the cutest? These Christmas Tree Cupcakes come in two delicious parts. The chocolate Christmas tree, and the yummy cupcake. Which one will you eat first? Not to mention, the cream cheese frosting is a big bonus too!
18. Watermelon Christmas Trees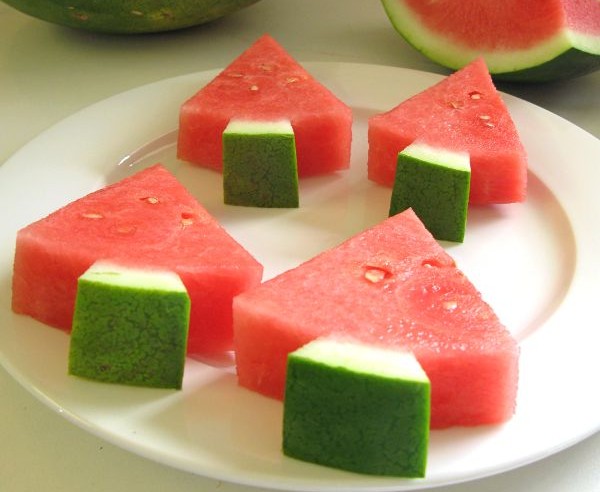 This watermelon art is so versatile that you can bring these to any event. Add these Watermelon Christmas Trees to your list of things the kids will bring to their Christmas Party. They're healthy plus, they're super easy to make!
19. Fruit Christmas Trees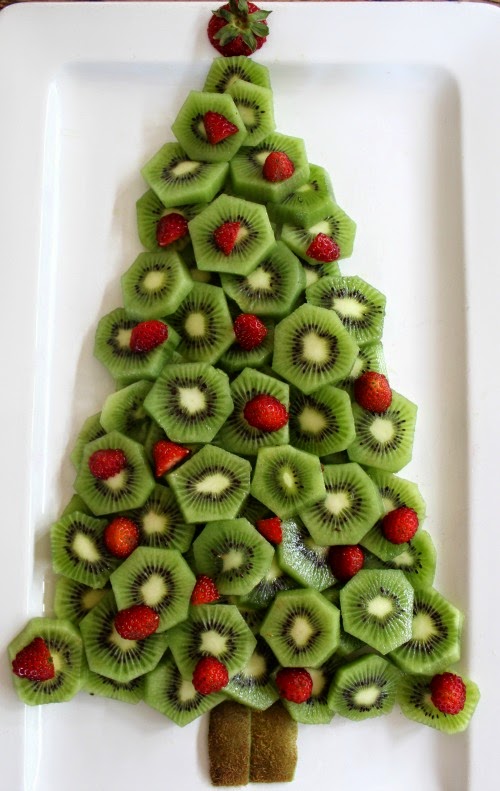 This nutritious fruit platter is one of those Christmas food ideas that you surely don't want to miss. The kiwi fruit makes it a good choice for the green part of the Christmas Tree and the strawberries serve as beautiful Christmas Tree decorations. It's not your usual fruit platter but this Fruit Christmas Tree will be a crowd favorite.
Looking for some DIY ornaments and decorations?
We've got plenty of inspiration with 10 fuss-free DIY crafts for kids!
Stuck on what to buy this Christmas?
You'll love these Personalized Christmas Gifts. They're super cute & you get to add a person's name & personal message to each item. Give a gift from the heart that they'll treasure forever.