Easy To Pack Away: Kids Room Storage Ideas
Are you looking for Kids Room Storage ideas, to keep things organized in their room? With loads of little things here and there, it can be overwhelming for a busy Mom to stay on top of! 
These 3 tips on How To Keep Your Kids Room Organized will help you create a fun and clutter-free space for your little ones! Check out these cute and clever DIY kids room storage ideas we found for you! 
1. Categorize
Designate specific spaces or zones that define their purpose. Even if it's a small room, having assigned spaces for each activity helps kids know what they can do in which space, and most importantly… what goes where. Get the perfect storage space for every little thing and you'll help them to build the skills to keep their space tidy in no time. Here are some DIY kids storage ideas to get you started:
Here's an awesome idea for a bookshelf. Stack up some wooden crates and secure them together and to your wall to keep them from falling. Paint them with fun colors and turn them into a vibrant reading nook by throwing some cushions in a crate too. They'll love engaging with their books when they can access their favourites easily.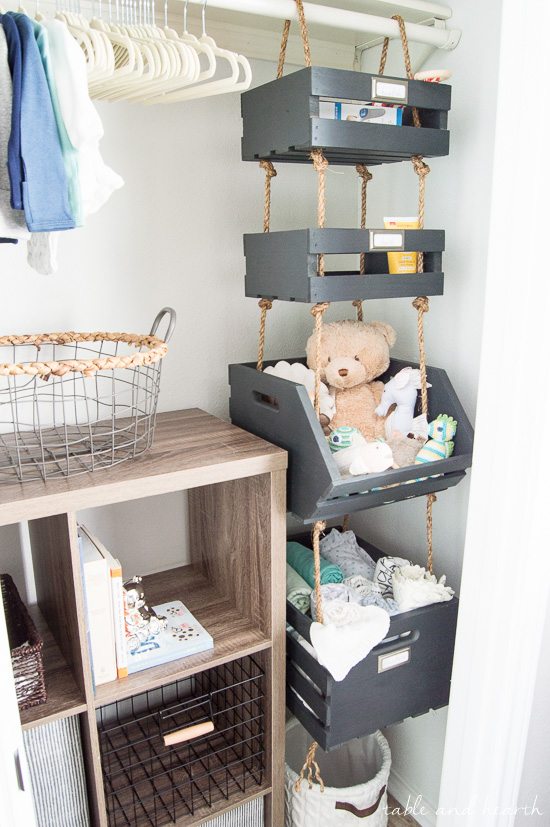 Hanging storage is perfect for small rooms that don't have extra floor space. Why not hang a couple of crates up in their closet? Clever huh?! Assign each one for their toys, clothes, and even small items for babies like diapers, and even toiletries!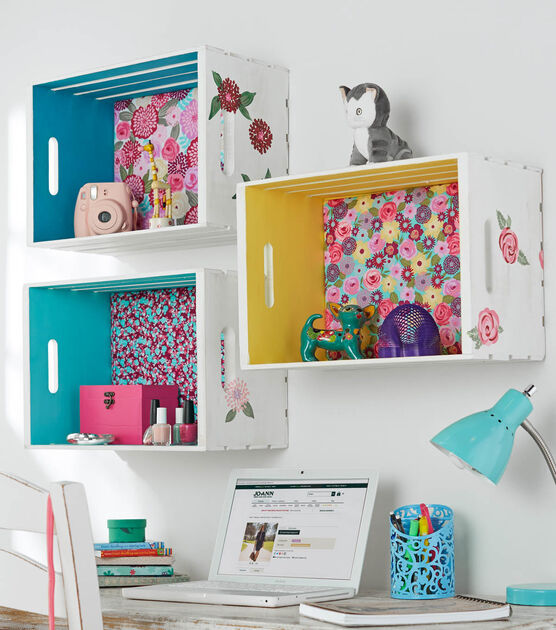 Want a great space saver that can organize all their favorite toys, artworks, and other knick-knacks? Mount some up-cycled wooden crates and use them as shelves.  Perfect for small spaces!
2. Color Code
Kids sharing a room? A cute and fun way to help your kids keep their things organized is with a color-coding system. When you've got more than one kid, you can assign one colored tub to each of them to help them put their own things back where they belong. Don't forget to label their toys too so that you can avoid those unnecessary arguments about who owns what toy. Game-changer!
Take a look at some DIY Kids Room  storage ideas that use a color code organization system: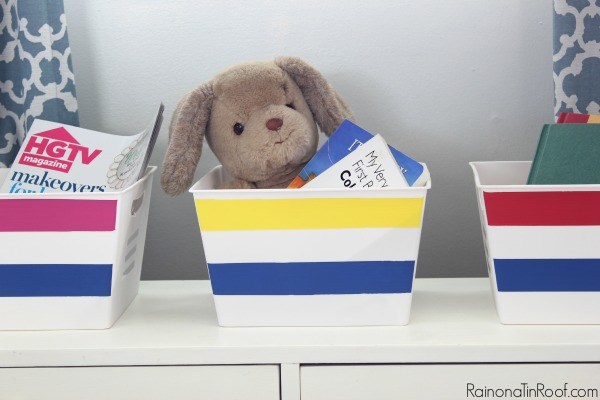 Repurpose some baskets and paint them with colored stripes.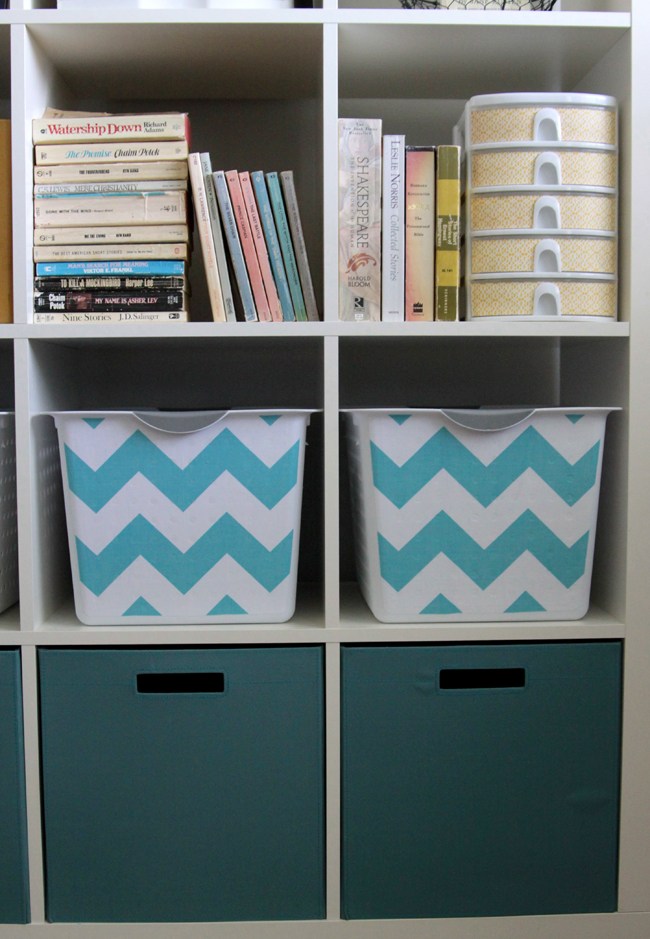 Make it more fun and playful! Use colored and printed fabrics or vinyl to dress up your storage bins and baskets! Not only do they look amazing but it's a great way to get a hint of what's inside. 
3. Label 
Labeling your kids' storage crates, bins, and shelves makes it easier to know what they contain. No more guessing what goes where!
Check out these storage containers with labels that look great and serve their purpose of keeping everything neat and tidy:
Wooden Storage Crates with Wheels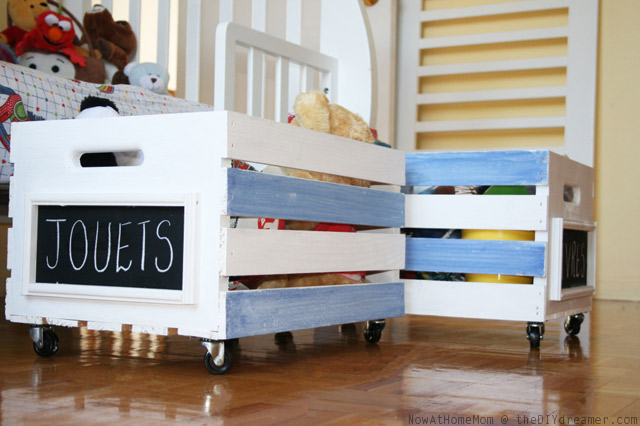 Kids and toys are inseparable. They go everywhere and anywhere together… Who hasn't found a toy in their handbag right?! A clever idea is to have their storage on wheels so they can also easily put them back. It's so easy too! Add some wheels to your crates & then add these reusable Chalkboard labels to label them with what belongs inside. No matter where they're playing around the house, it'll be easy for them to pack away independently.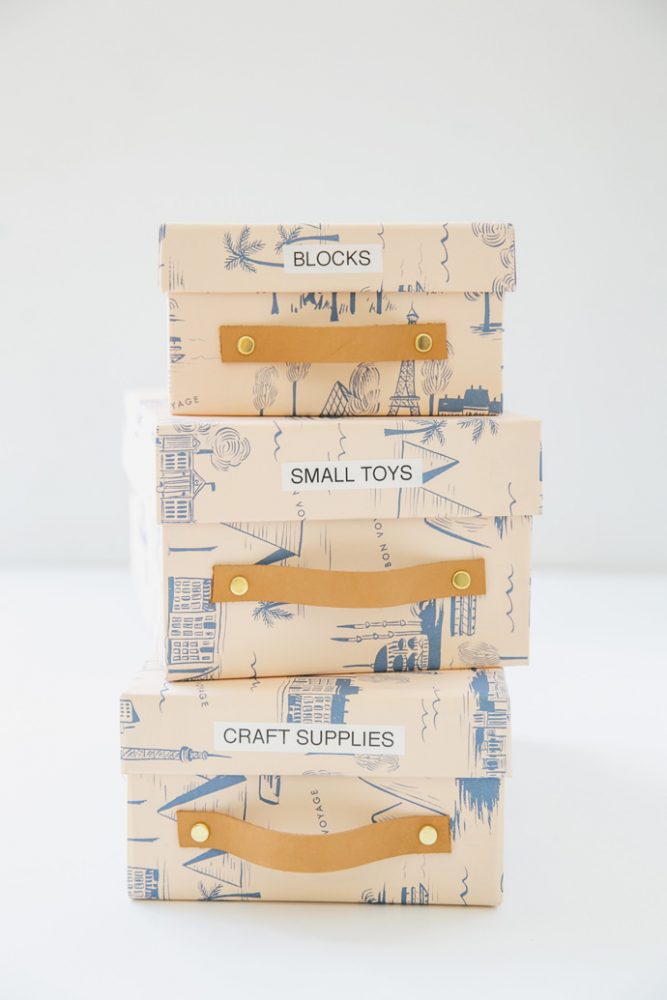 Save money on crates and bins by making use of shoe boxes or cardboard boxes at home. Create some cute DIY storage boxes by using paper from your arts & crafts stash. Then, add your personalized labels. It's a fun DIY craft that you can do with your little ones & it won't break the bank.
These are just a few clever ideas for helping to keep things organized in your kid's bedroom. Don't forget to share your storage ideas by tagging us on Instagram & Facebook too.  
Want More Organization Tips For Your Home?
Read more about organization tips and inspiration in our article about Home Organization Ideas. Teach your kids to be more independent with Color Coding and Labeling and save yourself stressing over who owns what item. This will definitely level up your organization skills!
Looking for Labels For Your DIY Kids Storage?
Label all of your DIY Kids Storage. We've got chalkboard labels for your crates and shelves that you can reuse time & time again. Once you've organized their rooms and found some extra space, you can definitely spruce their room up with our personalized wall letters and wall decals. Perfect for making kids' spaces more fun! The best part? These are all made for you in the USA and shipped super fast! You're going to love them.